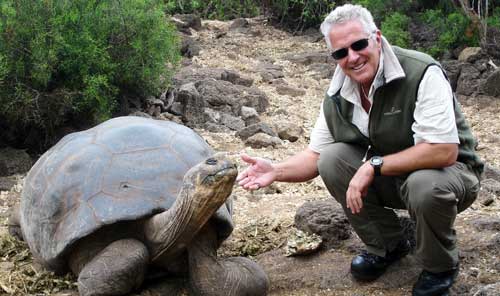 Turtle Galapagos
The area between Africa and South America is known as a dangerous place to fly. Imagine doing it in a Cessna 182. Robert [Bob] Gannon did just that. He flew from the Cape Verde islands off the coast of Africa to Natal, Brazil. When he came to present to my students at Grossmont College in the spring of 2011, they found this part of the presentation to be most interesting.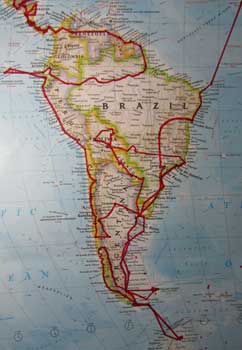 Gannon had planned on a 15 ½ hour flight. However, he encountered seven storms on the first half of the trip with heavy head winds. He tried to fly above, under, and around the storms, but finally gave up, and ended up flying directly into the last four. He was 70 miles from the halfway point, but had used up half of his fuel. Pilots call this the point of no return. He decided to proceed ahead, and he had better winds. He was 4 hours from an island off the coast of Brazil called Fernando de Noronha. He radioed ahead and let the female air traffic controller know what was going on. He did not have permission to land on this island, but because it was an emergency, they let him do it. As the traffic controller guided him, she asked him what color his plane was. Bob thought that she did this, so he could invite her out to dinner later that night. The truth turned out to be much more sinister. She was worried they might have to look for a floating coffin later. He landed there in one piece, and then flew on to Natal, Brazil. He had 35 minutes of fuel left over.
Gannon not only traveled all over Brazil, he went to every country in South America, including Argentina, Uruguay, Paraguay, Chile, Peru, Ecuador, Bolivia, Colombia, Venezuela, the Falkland Islands, the Galapagos, and even Antarctica where he had to fly at 500 ft to avoid icing conditions. He loved and found beauty wherever he went. One thing that impressed him, especially in Brazil, was how South America was truly a melting pot, and that race was less of a problem than in other places.
He was also impressed by the magnificent wildlife and beauty he saw everywhere. He got kissed by a baby vicuna in Bolivia. He stood amongst hundreds of Adelie penguins in Antarctica. He greeted the giant turtles and blue footed boobies in the Galapagos. He went to the Iguascu waterfalls in the corner of Argentina, Brazil, and Paraguay. He went all the way down the Amazon and across the Andes. He went to Machu Picchu in Peru and helped to fly medical supplies into Pisco. He got permission to fly around Christ the Redeemer, the famous statue in Rio.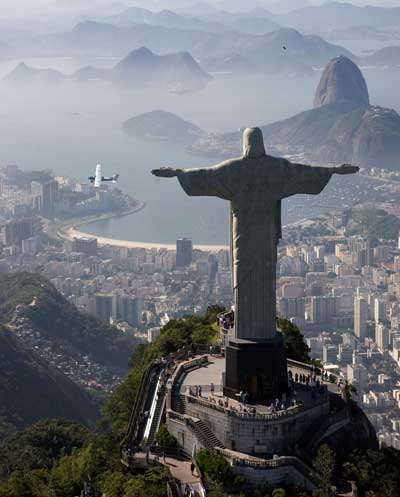 Christ the Redeemer, Rio de Janeiro, Brazil.
He had nothing but good experiences, except for one place, Isla Margarita in Venezuela. He does not have a high opinion of president Hugo Chavez. When he flew into Isla Margarita, a lovely island off the coast of Venezuela, a general who worked with Chavez tried to confiscate his plane on some technicality, saying he did not have a ferry permit. He did not want a bribe. He wanted the plane. Gannon assumes it was to run drugs. Gannon was able to avoid the clutches of the general and got out right away. The irony is he says that he felt very safe in Colombia, and that it had changed a lot from the bad reputation it had before. He liked Colombia very much, as well as all the countries he visited there. He believes everyone should come and see the splendors South America has to offer.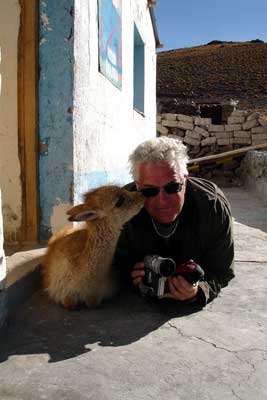 Kiss of a Vacuna, Bolivia.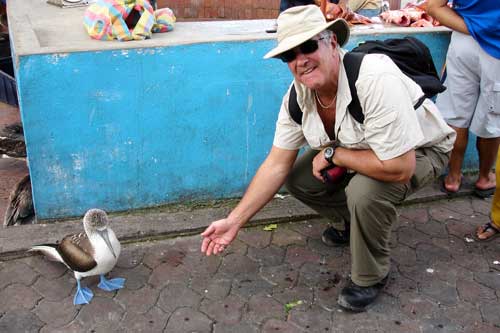 Blue footed boobie, Galapogos.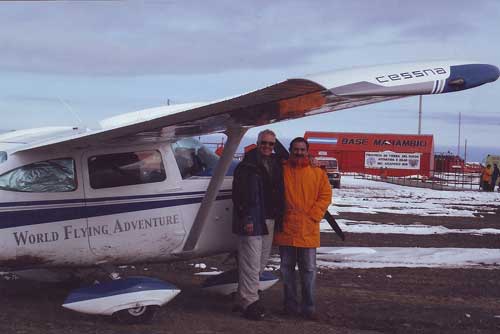 Base Marambio, Antarctica.